A Reiki Session in Montpelier
What is a Reiki Session Like?
To receive Reiki, most people lie on a table or sit on a chair fully clothed. You will feel the Reiki practitioner lightly touching various areas of your body, including the head, shoulders, back, chest, stomach limbs and feet.
Though Reiki techniques appear simple, the effects can feel profound. Most people experience deep relaxation. Many people feel heat radiating from the hands of the practitioner. You may also feel tingling, pulsing, a feeling of warmth or comfort, or you may fall asleep.
Some recipients say they feel little during the session but afterwards enjoy a sense of calm and wellbeing, reduced pain, or a deep restful sleep. It is possible you could experience powerful sensations or emotions during or after a session.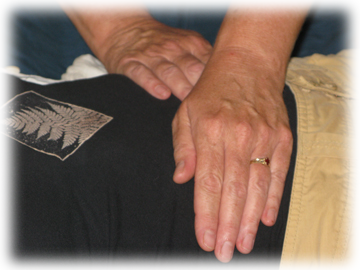 Sample Reiki Hand Positioning
Reiki Session Rates
Sessions are $50 per 1 hour session with Nancy Oakes at Woodbury Mountain Reiki in Woodbury, VT.
The first session will include an informational discussion of Reiki.
Special rate may be worked out for frequent flyers within a specified time period. Please inquire.
Session Locations
At Woodbury Mountain Reiki Home, on the County Road Extension in Woodbury VT